The iniqee design thinking workshop is a comprehensive training program that aims to help individuals expand their design horizons. It is designed to develop knowledge and skills, on the premise that design is far more than just a visually appealing product. The course delves into the important aspects of design such as understanding the concept, internalizing processes and functions in order to think design. The course is suitable for those who are looking to learn and grow in the field of design and is not focused primarily on aesthetics but also on discovering and fulfilling needs.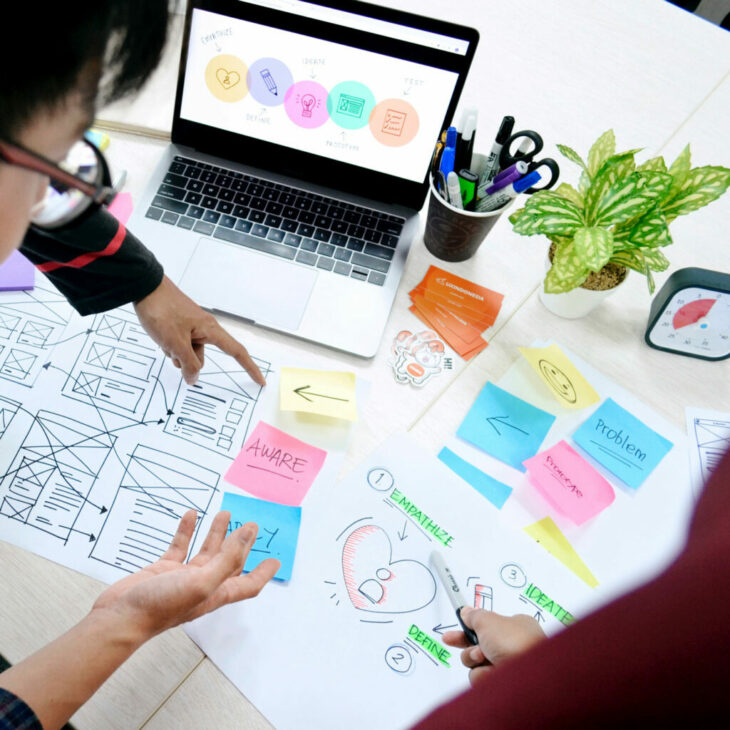 Learn with our design thinking workshop to create amazing products
your customer will love!
In the realm of change management, design thinking is a crucial element. In this training session, our specialized experts will walk you through an approachable and engaging process for solving complex problems. Our systematic and agile approach focuses on creating user-oriented solutions based on the wants and needs of your users. You'll become part of a design thinking process, learn to think in stages, and explore the innovative solution possibilities of tomorrow. Take your first step towards revolutionizing your problem-solving approach and sign up for our design thinking workshop today.
Goals and objectives of design thinking
Design thinking is a powerful methodology for creating user-centric products that meet real needs and solve problems, all while driving success. In this workshop, we will explore specific training methods that teach you how to develop products in line with user demands, refine your strategy based on their needs and problems, and optimize your approach at every step. By recognizing product usage patterns, you'll gain insight into which tools to use to ensure a successful development process. Join us and learn to leverage design thinking principles for unprecedented product success.
The design thinking process structure
Design thinking workshops offer a comprehensive approach to influencing the strategic direction of your product. The process-based model provides a framework for understanding how the story of your product evolves, starting with the definition of user needs using tools like observation, interviews, and necessity, and moving systematically through the analysis phase using persona, CJM, and point of view. From there, the creative process begins, including ideation with tools like scamper, Disney method, and six thinking hats, and prototyping using paper prototypes, storyboard, "Wizard of Oz" prototyping, and role play. Finally, the workshop covers the final stages of testing, interviews, and feedback implementation. With iniqee specialists as your guide, you'll gain a deeper understanding of how to use each specific tool and the respective stages of the design thinking process.
The question of the right product
Our design thinking training offers participating teams a structured process to ideate and ultimately select the product they want to develop. With so many approaches available, our iniqee specialists guide you towards the optimal user-centered methodology that emphasizes collaborative, solutions-driven interactions between product and user. Our goal is not only to bring a new idea to market, but to facilitate a bespoke, needs-based approach to product development. By partnering with our experts, teams benefit from insights into the kinds of products that customers want and need – and get the opportunity to put their prototype to the test with real users. Join us and see how our data-led approach can help you unlock new levels of creativity and problem-solving.
Innovative methodologies and conservative industries
In almost every industry, the constantly accelerating pace of change creates opportunities for transformation. Design thinking training demonstrates that not only progressive companies are capable of innovation and structural adaptation. Conservative industries, with minor improvements in performance, can quickly differentiate themselves from their competitors. In fact, these sectors often hold more potential. By shifting the everyday perspective, process adjustments can hold the key to success. Open up new markets and customers by drawing inspiration from this workshop.
The product is the opportunity!
Our workshop is designed to help you address a common challenge that many businesses face – not being able to answer questions about their own product. Often, the root cause of this problem can be traced back to the company's market launch strategy. However, with the application of design thinking, you can create a user-centric product that is truly in demand. By working with our iniqee specialists, we will guide you through each stage of the design thinking process to develop a customized concept that will ensure your success in the market. The future is bright, so let's optimize our strategies now.
Interested in design thinking knowledge for your team?
Our heroic crew will help you to set up the right training
Through this workshop, you'll gain the skills to apply design thinking principles in your business and development practices. You'll learn how to identify user needs, visualize solutions, develop effective prototypes, measure success, and refine strategies as needed. With these methods at your disposal, you'll be able to create products that meet real customer needs with unprecedented efficiency and effectiveness.
Design thinking is an approach to problem-solving that utilizes creative processes, user empathy, and iterative experimentation in order to develop innovative ideas and solutions. By understanding the components of design thinking and applying them to your practice, you'll be able to create products that are uniquely suited to customer needs.
We are happy to talk to you about your success with our design thinking training